Mele Kalikimaka a Hauoli Makahiki Hou!
Dear Friends and Patients of Haiku Veterinary Clinic,
Our team wanted to wish you the best this holiday season!
The holidays are a time for celebration, spending time with loved ones, and reflecting on the good things that happened during the year. The holiday season however can be hazardous for our pets. So to make sure the holiday season is safe and fun for everyone, we are recommending taking some precautions. For instance, while yummy chocolate goodies are some of our favorite holiday treats, they do pose a serious health risk for dogs and cats.Tree ornaments, lights and tinsel can be a big source of hazard for our pets as well. Overall, we need to be mindful of making our celebrations pet-safe.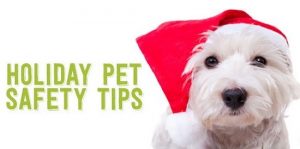 Here is a list of some holiday hazards to avoid:
Toxic Holiday Plants: did you know that many of those beautiful floral Christmas decorations and center pieces in your home are not only harmful but toxic to your pet?
Poinsettia: During Christmas time this plant is a popular gift, despite a bad rap regarding its extreme toxicity, this is actually NOT TRUE, this plant is only mildly toxic. The sap of a poinsettias leaves/peddles is mildly toxic/irritating and can cause nausea, drooling and vomiting, however it is not fatal. This being said, medical treatment is rarely necessary unless clinic signs are severe.
Holly and Mistletoe: These plants, along with their berries, have a greater toxicity level than the poinsettia and should be kept either out of your house or out of reach or your pets. If ingested, it can cause intestinal upset such as vomiting, diarrhea, excessive drooling and abdominal pain. Mistletoe is well known to cause severe intestinal upset and even a sudden severe drop in blood pressure, breathing problems, and even hallucinations (unusual behavior). In large ingestion cases symptoms may even include seizures and death.
Baked Goods: are a key part of Christmas celebrations, however many of the ingredients we use are extremely toxic, even possibly fatal to our furry companions.
Chocolate: Chocolate poisoning (theobromine) is a serious and potentially fatal issue that many pet owners are faced with during the holidays. The key thing to remember about chocolate poisoning is the darker the chocolate (baking or gourmet dark chocolate) the more toxic it is! Signs of chocolate poisoning include vomiting, diarrhea, panting/restlessness and in severe cases muscle tremors, seizures and even heart failure. Even though symptoms may take several hours to present it is of the essence that a veterinarian be contacted immediately if you believe you pet has ingested chocolate.
Nuts (Almonds, Walnuts, Macadamia, Pecans, Pistachios) – While some of these nuts listed are not actually toxic they are not easily digested by animal and can cause upset stomach and gastric intestinal distress. Walnuts contain a toxin named Tremorgenic Mycotoxin which can cause neurological symptoms that can include seizures, Macadamia Nuts contain and unknown toxin that may results in neurological symptoms as well. If these are ingested a veterinarian should be contacted immediately.
Please know that the poison center phone numbers are available for both for pets and people in case of an emergency.
Feel free to check out other items that are poisonous at: http://www.petpoisonhelpline.com/poisons/
Poison Hot Line: (800) 213-6680
Veterinary Emergency Referral Center: (808)735-7735
Preparing our pets for the New Year's Eve parties and fireworks can be a big challenge. Most dogs and cats do not respond well to hearing or seeing fireworks. Planning some exercise that morning as well as preparing the place they are staying in is a big help. Make sure their kennel is safe and comfy in a secure room far away from the festivities. Turning on the T.V. or playing some music in the room they're staying in can help soothe a pet – and hopefully drown out the fireworks.
Give us a call if you will be needing a prescription for tranquilizers! If your pet hasn't been seen recently, an exam may be needed before we are able to prescribe anything. Another option we have is Solliquin, an all natural calming supplement. No prescription is needed to purchase Solliquin.
Please check out more information on Solliquin at http://www.solliquin.com/.
Please plan early for these options!
The Clinic will be closed on Christmas Eve, Christmas Day, and New Years Day.




We will be open New Years Eve from 8:00am – 2:00pm.
We thank you for allowing us to be a part of your furry and feathery loved ones lives this year.
See you in the next!
Dr. Elison, Dr. Dale, Dr. Chung, Dr. Massengale and the Staff of Haiku Vet Clinic